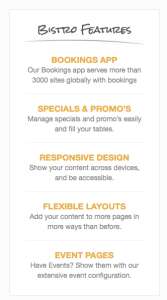 The New way of using the navigation menu as seen in the screenshot is one of the features of the Bistro theme that users quite like. This widget ads another level of uniqueness to your theme and directs visitors to the parts of the site that you want them to notice.
Adding the widget is well documented in the Setup video's that can be found here.
There is a small part of this that users are struggling with when they set up the theme, and that's got to do with adding the menu item descriptions and that's what we're discussing in this faq.
The first part of getting the descriptions ot work is to access your WordPress nav-menu page at "appearances->menu".
On the right hand top of the page you will see the tab to click to access the "Screen options" as you see in the picture below:

After clicking you will see a drop down box as the image below allowing you to select and uncover the menu descriptions.

This will uncover the descriptions in the menu items as shown below and will allow you to add descriptions to the widget items.